Who Are You?
Who are you?...
Yes, you...
Yes, you reading this right now...
Who Are you?
I ask because I have no idea who it is reading this thing from day to day. I know about 4 or 5 people that I have spoken to about the blog and about the fact that they do read it. Yet, as of this post I have 1900 unique visits, 2605 page views and not a single idea who it is that actually knows about it. It's not really that I care about who reads it, or who knows about it; Hell, if you know me and my email address there are plenty of roads that could have led you here.
So basically the point that I'm trying to get across is: If I know you ,or I guess even if I don't, let me know who the hell you are. You don't have to have a blog to comment to any of this and it would be cool to know who's reading it.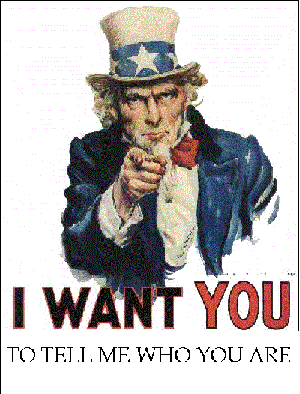 (PS - Geoff and Jennine's Misadventure is being written up for a second time... don't ask)